The Toastmaster Spring Conference happens only once a year, and we take this time to celebrate our achievements, enjoy a delicious breakfast and lunch, and get inspired by an accomplished keynote speaker. Also taking place are our District 52 Table Topics & International Speech Contests – where the best of the best speakers compete for the Championship Title and move onto the International Contest in Colorado this year!
Network with 200-300 Toastmasters – including club officers, area directors, division directors and the top brass in our organization! Our best raffle of the year takes place here – get a chance to win some amazing prizes. Get educated and inspired, watch the best of the best in compete in the speech and table topics contest, all at the beautiful Embassy Suites in Glendale! Continental breakfast and gourmet lunch is included.
Tickets: $80
Date: May 4th, 2019
Time: 8:00 am – 5:00 pm
Location: Embassy Suites, Glendale

District 52 – 2019 Spring Conference
 Embassy Suites – Glendale
800 N Central Ave, Glendale, CA 91203
Phone: (818) 550-0828

Parking is $8/day at the hotel (please arrive early to get a spot).
Parking at the lot across the way $15/day.
Key features of the conference include –
● Keynote speaker, Dana LaMon – 1992 World Champion of Public Speaking
● Hall of Fame Awards ceremony and luncheon to recognize outstanding achievement of clubs and members in the 2018/19 Toastmasters Year
● Two show stopping Speech Contests with the best of the best in the district vying for the coveted title of District 52 Speech Champion and a chance to become the World Champion of Public Speaking.
● Continental Breakfast & a Gourmet Lunch (4 options available)
7:30-8:30 am – Registration/Cannidate's Corner/Credentials/Raffles 

8:30am – 10:30 am – Business Meeting
10:30 – 11:00 am – Break 
11:00 – 11:15 am – Pledge/Invocation/Inspiration
11:15-12:15 am – Dana LaMon – Keynote
1:00 – 2:00 pm – Hall of Fame Awards 
2:00 – 2:15 pm – Break 
2:15 – 3:15 pm – Table Topics Contest 
3:15 – 3:30 pm – Break
3:30 – 4:30 pm International 
4:30 – 5:00 pm – District Announcements/Winners/
Acknowledgements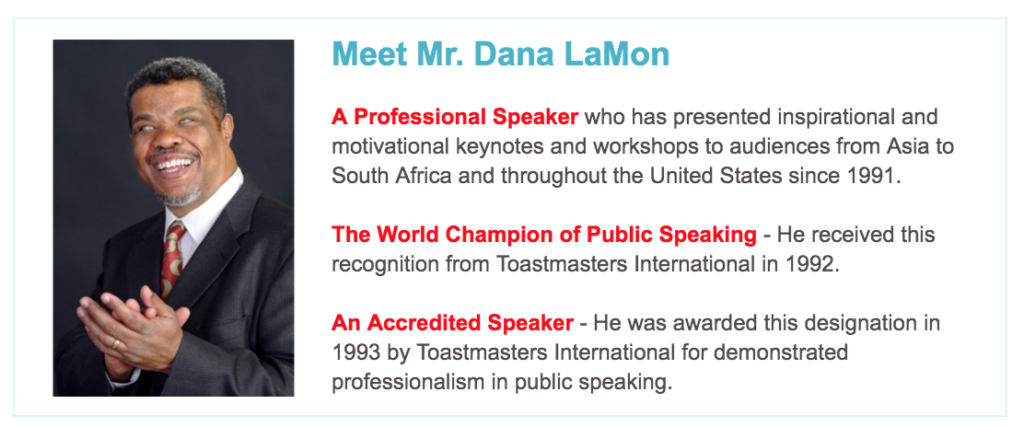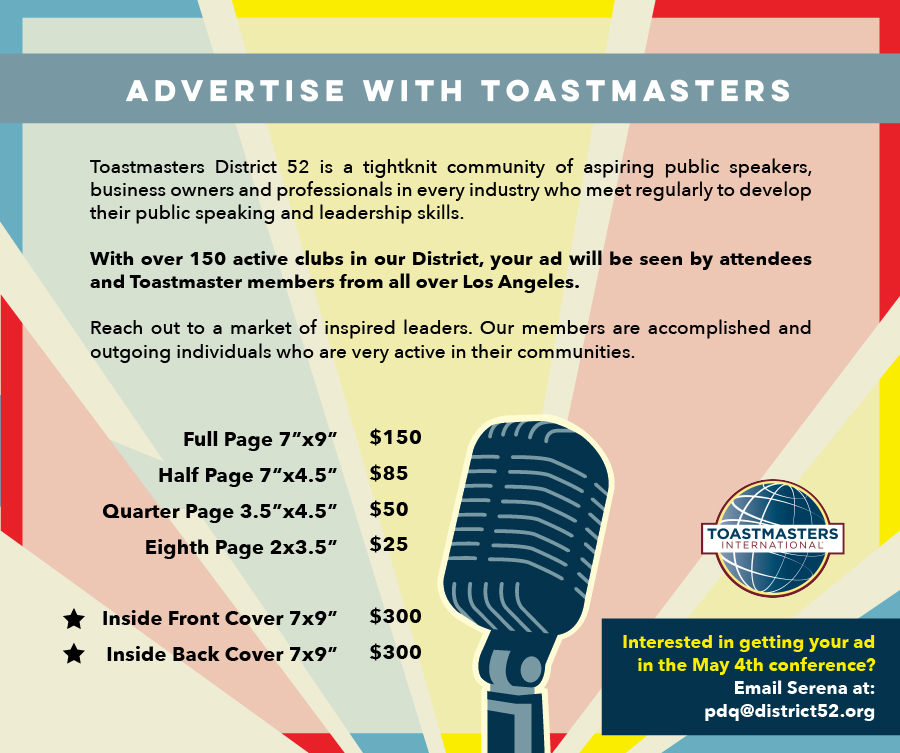 For details about sponsoring part of the conference or to advertise your business in our program, please contact the Program Quality Director.
Parking
The Embassy Suites parking lot may be used (arrive early to get a spot). Parking is also available in the lot across the street.
Volunteer
Looking for an opportunity to serve District 52 will enjoying the Conference? Consider volunteering to help with the conference – contact our Program Quality Director for more details.
Can't attend the conference May 4th?
Make your vote count via PROXY!
Just download the form, sign and hand to someone who WILL be attending May 4th!